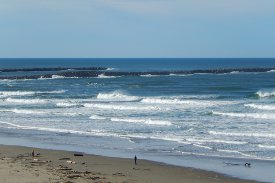 Yaquina State Park is located on the north side of Newport along the ocean and entrance to Yaquina Bay Harbor. The park is more than a just a great place for a picnic. It is home to the Historic Yaquina Bay Lighthouse and Fishermen's Memorial Sanctuary. Also, it is the best viewing place in Newport to watch ships and boats going out to sea and entering the harbor. A stop at the park to see this breathtaking view is definitely a must when visiting Newport!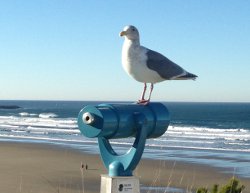 Many parking spots in the park face the ocean and entrance to the harbor so the view is all yours. Grab a cup of coffee and enjoy watching the panoramic view from your car or from outside viewing areas. Watch the activity of beachcombers or explore the beach yourself by taking the park's path and stairs to the beach below.
For more information on Yaquina State Park, visit the Oregon State Parks website.