Gray whales can be spotted off the Oregon Coast year round. However, whales migrating southbound peak around the last week in December and whales migrating northbound peak near the end of March. Gray whales generally travel approximately 5 miles off the shoreline but are often seen as close a 1-2 miles from shore or closer.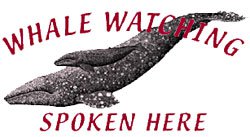 The Whale Watching Spoken Here program helps visitors spot gray whales and learn about them. This program offers 24 whale watching sites along the Oregon Coast twice a year. Trained volunteers are at these sites from 10:00am to 1:00pm during the Whale Watching Weeks.
2012-2013 Whale Watching Weeks
Winter: December 26-30, 2012
Spring: March 23-30, 2013
Two whale watching information sites are located in Newport. One location is at the Yaquina Head Outstanding Natural Area at the north end of Newport. The second information site is in the gazebo at Donald A. Davis Park, located across the street from the Whaler Motel.