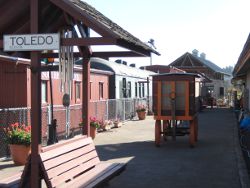 There are a lot of fun places to visit in Newport and the surrounding area. If you are interested in trains from the past, you may want to check out The Yaquina Pacific Railroad Historical Society Train Museum.
The museum is located 7 miles east of Newport in the town of Toledo, Oregon. The museum features local train history and artifacts, historical train cars, a wooden caboose and a steam locomotive. There is even a 1923 Southern Pacific Railroad Post Office (RPO) car that you can tour. The interior furnishings of the mail car were completely stripped out when the Historical Society acquired it. It has since been restored with original fixtures and mail bags.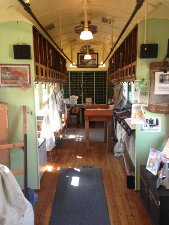 The bell that once sat on top of an old steam locomotive that was used to haul logs from Waldport to Newport in the early 1900′s is on display at the museum. Although the locomotive was destroyed by fire, the bell survived and was restored. Kids (and adults) will have fun ringing the bell and hearing a sound from long ago.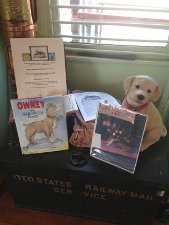 An interesting exhibit honoring Owney, a famous dog that rode on U.S. Postal mail cars from 1888 until his death in 1897, is featured at the museum. Two delightful children's books, "Owney The Mail-Pouch Pooch" by Mona Kerby & Lynne Barasch and "A Lucky Dog: Owney, US Rail Mascot" by Dirk Wales & Diane Kenna have been written about Owney as well as a 2011 US postage stamp created in his honor. Owney's story can also be found at the Smithsonian's National Postal Museum.
The train museum is located at 100 NW A St., Toledo, OR 97391 br>
Phone: (541) 336-5256 br>
Hours: Tuesday–Saturday 10:00 AM to 2:00 PM