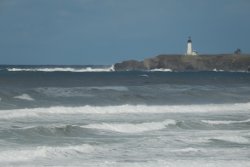 When people think of the Oregon Coast they often associate it with summer, spring or fall seasons. Activities such as beachcombing, fishing, eating salt water taffy and dining on fresh seafood usually come to mind. There are many unique things to see and do during the winter months at the coast. Watching the magnificent Pacific Ocean during a coastal storm is just a start and is something that you won't want to miss. Whether it is stormy or calm, you will not be disappointed in the performance nature presents.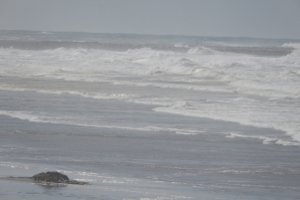 Think about coming to Newport this winter to relax and watch the ocean from your cozy room or beach house at the Whaler. Snuggle up to a warm fireplace and listen to the roar of the crashing waves outside. Finally, start that book you have been wanting to read.
As coastal storms and squalls pass by, there always seems to be a calm break in the weather when you can get out and take a stroll on the beach. It is interesting to see what has washed ashore after a storm is over. It is also the best time to find agates, shells and driftwood. You may even find items that have floated and drifted for months across the ocean.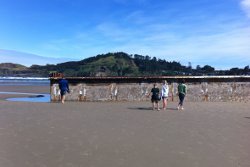 Last year, a 66 ton Japanese dock that was swept out to sea during the March 2011 tsunami washed up on the beach in Newport. It became the largest find and most exciting discovery for beachcombers.
Always keep a safe distance from the ocean, especially when the ocean is rough. Sneaker waves and rip currents are dangerous. Stay away from logs in the surf or on the sand as it only takes 4″ of water to turn a five-ton log. Never turn your back on the ocean.
For room reservations at The Whaler, Reserve Online or call (541) 265-9261 and ask about winter specials. For your convenience, Aquarium tickets are sold at the Whaler Motel.