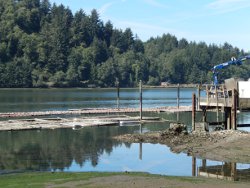 Looking for something different to see on your next visit to Newport? Take a scenic drive up Yaquina Bay Road and stop at Oregon Oyster Farms where Yaquina Bay oysters are grown and harvested. If you love fresh oysters, this is the place to come! Even if you are not a fan of oysters, the drive is spectacular and the oyster farm is fascinating. Founded in 1907, Oregon Oyster Farms is Oregon's oldest oyster farm. The oyster farm is located 6 miles east of the Yaquina Bayfront.
You can purchase a variety of items from their retail store such as smoked oysters, fresh live oysters in the shell, shelled oysters, clams and seasonings. The retail store is open from 9am to 5pm every day. Bring a cooler to take your oysters home or use the convenient shipping service at the store. For more information and recipes, visit the Oregon Oyster Farms website.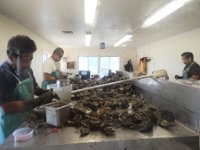 Oysters can be served in a variety of ways from appetizers to chowder to main dishes. Some people like their oysters raw with a touch of hot sauce while others prefer their oysters pan fried, baked or cooked in the shell on the barbecue. They are delicious anyway they are prepared. Oysters are low in calories and fat and they are rich in zinc and a good source of protein. One medium sized Pacific oyster is 40 calories.