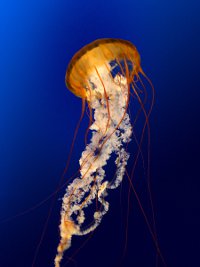 The Oregon Coast Aquarium is a world class aquarium and a "must see" when you come to Newport. It is an exciting place to spend some time to see the beauty of nature and the sea on display. Permanent exhibits, as well as changing exhibits, delight all ages. Helpful volunteers are always present to assist visitors at every exhibit area.
If you haven't been to the aquarium, or haven't been there for a while, be sure to check out the upgraded penniped (seals and sea lions) exhibit with its expanded viewing area. Other favorites include the Passages of the Deep exhibit where you walk through an acrylic tube that spans 200 feet under water. While walking through the exhibit you will see sharks, rays, rockfish, halibut and skates swimming above and below you.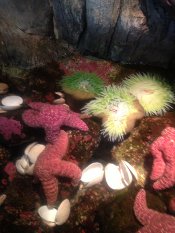 There are many wonderful interactive children's exhibits throughout the aquarium. The Sea & Me exhibit, complete with fishing boat, fishing poles with magnetic hooks to catch magnetic nosed rubber fish and a fish market to sell the fish is a favorite for kids. Another favorite for children is the sea anemone and starfish touching pool. Whether it's rain or shine, or a little bit of both, the aquarium offers both indoor and outdoor exhibits. Plan on spending a couple of hours or longer at the aquarium. Excellent food service is available at The Ferry Slip Cafe on site, as well as coffee and espresso stations. Be sure to visit the aquarium's gift shop where you will find quality aquarium related merchandise and gifts.
For reservations at The Whaler call (541) 265-9261 or Reserve Online.
For your convenience, Aquarium tickets are sold at the Whaler Motel.