NOAA Fleet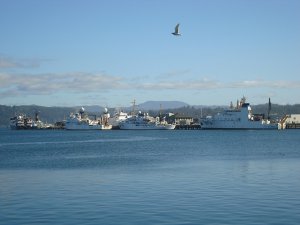 There are a lot of interesting things to see in Newport. One impressive site is the National Oceanic and Atmospheric Administration (NOAA)'s Marine Operations Center-Pacific (MOC-P) facility and its Pacific research fleet based on Yaquina Bay in Newport.
The NOAA site in Newport serves as homeport for five research and survey ships (Bell M. Shimada, Ka'imimoana, McArthur II, Oscar Dyson and Rainier). The vessels are generally out to sea conducting research missions during the spring and summer and moored in the winter for repairs and restocking.
NOAA is the US government's oldest scientific agency. Its roots stretch back to the early 1800′s. Today NOAA's work includes protecting our coasts, forecasting our weather, monitoring our atmosphere, managing our fisheries, exploring our oceans, charting our waterways, understanding our climate, and conserving maritime heritage.
Annual Blessing of the Fleet
March 16, 2013
Come and watch The Annual Blessing of the Fleet and boat parade on Yaquina Bay in Newport on Saturday, March 16, 2013. The blessing and boat parade will begin at 1:00 PM. The Blessing of the Fleet has been the custom since the early 1950′s of asking for prayers for protection at sea, bountiful catches, and peace of mind for the families at home.
The Blessing is open to any and all who wish to ask blessings on their fishing vessel, charter vessel, pleasure craft, or research vessel. Anyone wishing to participate can pick up a vessel registration form at Schiewe Marine or Englund Marine Supply. For information, visit the Newport Chamber or contact 541-574-5555.