New Exhibit at Hatfield Marine Science Center
A section of the 66-foot Japanese dock that washed up on Agate Beach June 5, 2012 was recently mounted outside the entrance of the Hatfield Marine Science Center in Newport. The slice of dock, weighing seven tons, will be part of the HMSC educational tsunami awareness exhibit and will also serve as a memorial in honor of the victims of the March 2011 earthquake and tsunami in Japan. Uses for the remainder of the dock are being considered. Preparations are currently underway to get the exhibit ready for the official Commemoration Celebration at 2:00 PM, March 10, 2013. This event is free and open to the public.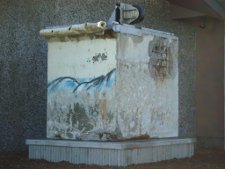 The section of dock on exhibit is from one of four docks moored in Misawa, Japan that were swept out to sea during the March 2011 tsunami. Two docks drifted inland of Misawa. The other two docks journeyed 5,000 miles across the Pacific Ocean until one washed up on Agate Beach on the Oregon Coast and the other washed ashore on the Olympic Peninsula in Washington.
Oregon State University's Hatfield Marine Science Visitor Center is open to the public. Admission is free, but a suggested donation of $5. per person or $20. per family is gratefully accepted. The center's exhibits feature marine life, marine research and coastal environment.
HMSC Hours:
Winter: Open 10 am – 4 pm Thursdays thru Mondays from Labor Day until Memorial Day weekend. Closed on Thanksgiving, Christmas and New Year's Day. During Spring Whale Watch Week open from 10 am to 5 pm.
Summer: Open 10 am – 5 pm seven days a week from Memorial Day until Labor Day. During Winter Whaler Watch Week open daily from 10 am – 4 pm (unless one of the winter dates falls on Christmas or New Year's). Closed Dec. 24, 25.
For more information on the Japanese Tsunami dock exhibit and the Hatfield Marine Science Center, visit the Hatfield Marine Science Center website.