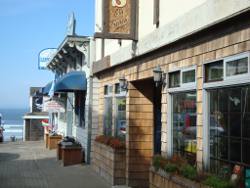 Nye Beach has been a favorite destination on the Oregon Coast for over 100 years. In its early beginning during the late 1800′s it was a small community where many visitors from Portland and the Willamette Valley came to vacation, especially in the summer. Mothers and children would come to Nye Beach and stay during the summer and their husbands would join them on weekends.
By the early 1900′s Nye Beach had become one of the top beach resort destinations in Oregon. Early vacationers enjoyed swimming in the ocean, surf fishing and hot sea baths. This popular vacation destination became known for its agate and salt water taffy shops and penny arcades. Lodging choices included several hotels, many small cottages or tents that vacationers brought with them. The Sylvia Beach Hotel (formerly the Gilmore Hotel) and a few of the vacation cottages still remain.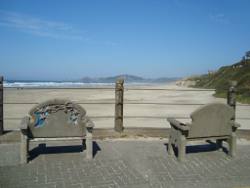 Today, the Historic Nye Beach District continues to be a popular area for residents and visitors. Here you will find quaint shops, unique restaurants, coffee shops and cultural centers. Just a short walk from the Whaler Motel, Nye Beach is a charming part of Newport that you won't want to miss.
The beach in this district has long been known for its beauty and picturesque view of Yaquina Head and the Yaquina Head Lighthouse. The Nye Beach turnaround offers a unique spot for a picnic lunch or to sip a latte from a nearby shop or to simply admire the view. The turnaround provides the most accessible access to the beach in Newport. Just a few short steps from the sidewalk lead you to the sandy Nye Beach.