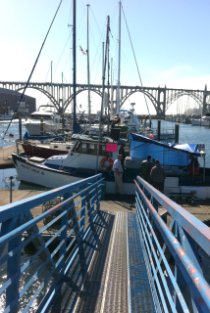 In Newport, you can buy fresh-caught Albacore tuna directly from a commercial fishing boat. It is delicious canned, baked or barbequed. A number of Newport commercial fishing vessels sell tuna, salmon and crab right off their boats.
Mike Morgan has been selling salmon and tuna from his fishing boat, the White Swan III, for over 30 years. Follow the bright pink signs to the White Swan III that is docked at the South Beach Marina, which is located across the Yaquina Bay Bridge in South Beach.
Mike is fishing for Tuna now through September. Be sure to give him a call before you make the trip to his boat, as he may be out to sea fishing. In August 2012, the price per fish on his boat is $2.75 lb. plus $4.00 for filleting.
Mike Morgan, Skipper
P.O Box 731
Newport, OR 97365
Phone: 541-265-2775
Cell: 541-961-1468
mikem53@charter.net
For more information on Oregon troll-caught Albacore tuna, recipes and where it can be purchased, both directly from a commercial fishing vessel or from retail suppliers, visit the Oregon Albacore Commission's website. Be sure to watch the Oregon Sea Grant YouTube video on "How to buy an albacore from a fisherman."