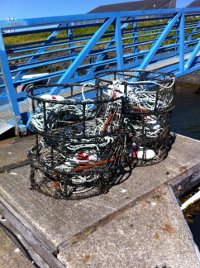 The opening of the commercial Dungeness crab season along the Oregon and Washington Coast, scheduled for December 1, has been delayed until December 16. The Oregon and Washington Department of Fish and Wildlife test crab to ensure that the crab meat percentage requirements are met before the season is allowed to open.
Thousands of crab pots have been covered and stored along Newport's Yaquina Bayfront during the off-season and soon those storage lots will be vacant. Fishermen are now loading their pots and floats onto their boats. Many will head out to sea on December 13, when they are allowed to set their gear three days before the opening.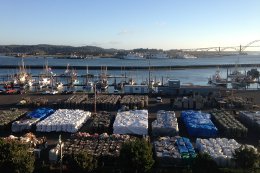 There are many places along Newport's Historic Bayfront where you can watch the crab boats, with their pots stacked high, parade out to sea and return with their catch. Watch this amazing procession of Newport's working fishermen from a dock, coffee shop, chowder house or fine seafood restaurant. Best of all, is eating this delectable treat in a fresh Dungeness crab cocktail, crab salad or crab cakes. Picking up a whole crab to take home is a must.
Crab season is a spectacular event that you won't want to miss! Come to Newport – The Dungeness Crab Capital of The World.